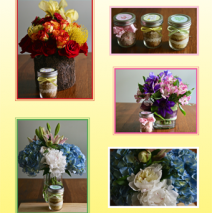 Glaze is teaming up again with Flower Power Nation to provide you with exceptional gifts for that super mom. What mother wouldn't want florals and/or cupcakes?! This year we are proud to announce a new offering: cupcakes in a jar. Such a great novelty item that moms will enjoy. A perfect ratio of cupcake to frosting. So much so, that she will be licking the jar & spoon clean! Our jars hold about 1 1/2 cupcakes. Mom can reuse the jar for jam, jelly, sauce & so much more! Our 3 flavor options are below. Flower Power Nation is also offering 3 floral arrangement offerings to meet your budget & pinpoint that style for that #1 mom. My personal favorite is the Seasonal Spring arrangement with Roses, Tea Roses, Pincushions, Irises in a beautiful wood accented vase. Check them out below!
Glaze Cupcakery
Plano, TX 75093
214-762-3165
glazecupcakery.com
Flower Power Nation
Dallas, TX 75218
214-810-6746
flowerpowernation.com
Cupcakes in a Jar by Glaze Cupcakery
Pink Lady
Strawberry cupcake topped with strawberry swiss meringue buttercream & pink sugar sprinkles  $7.50
Key to my Tart
Key lime pie cupcake topped with white chocolate buttercream, graham cracker crumbles & a lime flavored candy  $8.50
Banana Paradise
Bananas foster cupcake topped with cinnamon swiss meringue buttercream, cinnamon sprinkles, caramel drizzle & banana chips  $9.50
Floral Arrangements by Flower Power Nation
Floral offerings: all floral could be offered in special requested colors of pink, red, blue, purple, white and yellow. As always custom requests are welcomed!
Seasonal Spring arrangement with Rosemary, Irises, Clematis and dainty Alstroemeria in accented ribbon and Mullein leaves  $35
Seasonal Spring arrangement with blooms including Hydrangea, Peonies, Pincushions and Lillies  $45
Seasonal Spring arrangement with Roses, Tea Roses, Pincushions, Irises in a beautiful wood accented vase  $50+
All orders must be placed and paid for by Tuesday, 5/6/14 and picked up/ delivered by Saturday, 5/10/14. Orders may be placed by calling 214-762-3165 for Glaze Cupcakery, 214-810-6746 for Flower Power Nation. **Regretfully, for the duration of this special, we can't guarantee exact floral colors. Only the freshest seasonal floral available.